Colorado Plateau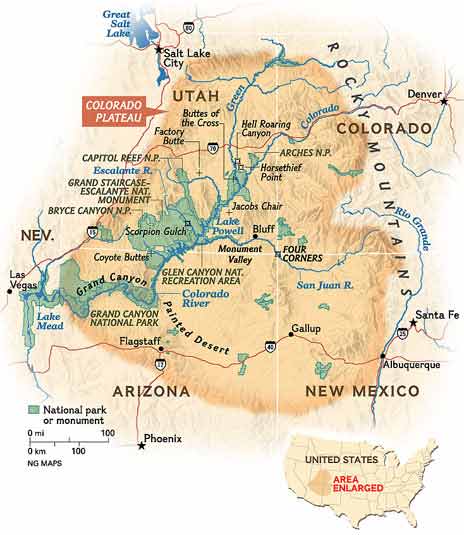 I wasn't aware before this trip that most of the National Parks I planned to see were on the Colorado Plateau.
Modified From Wikipedia:
The Colorado Plateau is largely made up of high desert, with scattered areas of forests. In the southwest corner of the Colorado Plateau lies the Grand Canyon of the Colorado River. Much of the Plateau's landscape is related, in both appearance and geologic history, to the Grand Canyon. The nickname "Red Rock Country" suggests the brightly colored rock left bare to the view by dryness and erosion. Domes, hoodoos, fins, reefs, goblins, river narrows, natural bridges, and slot canyons are only some of the additional features typical of the Plateau.
The Colorado Plateau has the greatest concentration of U.S. National Park Service (NPS) units in the country. Among its ten National Parks are Grand Canyon, Zion, Bryce Canyon, Capitol Reef, Canyonlands, Arches, Mesa Verde, and Petrified Forest. Among its 17 National Monuments are Dinosaur, Hovenweep, Wupatki, Sunset Crater Volcano, Grand Staircase-Escalante, Natural Bridges, Canyons of the Ancients, Chaco Culture National Historical Park and the Colorado National Monument.
One of the most geologically intriguing features of the Colorado Plateau is its remarkable stability. Relatively little rock deformation such as faulting and folding has affected this high, thick crustal block within the last 600 million years or so. In contrast, provinces that have suffered severe deformation surround the plateau. Mountain building thrust up the Rocky Mountains to the north and east and tremendous, earth-stretching tension created the Basin and Range province to the west and south. Sub ranges of the Southern Rocky Mountains are scattered throughout the Colorado Plateau.
Tectonic activity resumed in Mid Cenozoic time and started to unevenly uplift and slightly tilt the Colorado Plateau region and the region to the west some 20 million years ago (as much as 3 kilometers of uplift occurred). Streams had their gradient increased and they responded by downcutting faster. Headward erosion and mass wasting helped to erode cliffs back into their fault-bounded plateaus, widening the basins in-between. Some plateaus have been so severely reduced in size this way that they become mesas or even buttes. Monoclines form as a result of uplift bending the rock units. Eroded monoclines leave steeply tilted resistant rock called a hogback and the less steep version is a cuesta.
As the land rose, the streams responded by cutting ever deeper stream channels. The most well-known of these streams, the Colorado River, began to carve the Grand Canyon less than 6 million years ago in response to sagging caused by the opening of the Gulf of California to the southwest.